Featured Item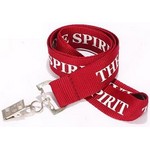 Polyester Lanyard 3/4" with Low qua...
These high quality polyester 25 pcs Minimum silk screened custom lanyards come with a choice of 4 attachments. Other optional features: safety breakaway, quick release buckle or both side printing can...
$1.63 - $3.60
Whats New Inc
Statistics say that 52% of people surveyed said a person's impression of a company is more positive after receiving a promotional product from them ~ and nearly 50% use those products daily. How does that compare to your current marketing campaign?
With a small price tag but a large lasting impact, promotional products are a great value for your investment. I can provide products from stylus pens to "smart" flashdrives as well as embroidered shirts... totebags and insulated tumblers are useful and appreciated. Please call Jacquie at 858-353-4302 or jacquie@whatsnewpromos.com.
What's New is a proud member of the Promotional Products Association International (PPAI) and SAGE.